Unique Oriental Rugs offers carpets woven by the most professional rug weavers of Iran , India , Afghanistan , Azarbaejan , Pakistan , China and Turkey. All natural dyes and handspun wool and silk.
Persian rugs are generally made by hand by skilled people. The craft varies from region to region depending on the environment and lifestyle of the rug makers. There are still tribal, nomadic, and rural carpets being made today the same way as they have been thoughout the ages.
Rugs that are hand knotted do not lose their value. They are known to gain in value with age. Synthetics usually lose all their resale value once they are bought. As an investment, a Persian rug is considered "property with cash value" - similar to gold, gems, and jewlery. Rugs increase in value with age.
When a business purchases a rug it can be considered a business expense like purchasing a desk and it also depreciates and can be deducted accordingly. When rugs are purchased for personal use they are not taxed as a business gain like other investments.

Following are the most popular design with a brief description of them. Each design can be viewed by selecting the thumbnail of that design.


Most popular design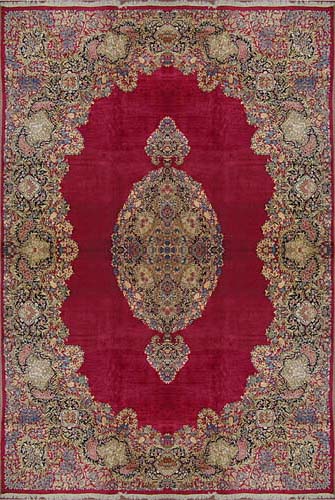 Kerman: Kerman rugs originated in the southern Persian city of that name. This rug-making region has been considered as the primary source of the world's most beautiful and inventive rug designs. Kermans are worked in harmonious colors, with naturalistic flowers and chiefly roses.
Carpets from KERMAN have been appreciated by western collectors for many years. They are particularly famous for having a single medallion. There are, however, many different designs in KERMAN carpets and rugs. Another common famous design is the "Tree of Life."
KERMAN carpets and rugs are of very high quality, just as TABRIZ and ISFAHAN. Rugs and Carpets from KERMAN have very tight foundations and the knots are Persian. The quality of the carpet depends upon the number of knots, which varies, but averages from around 120 KPSI (30 RAJ) up to 842 KPSI (80 RAJ). The reds and blues in KERMAN rugs and carpets are lighter in comparison with carpets and rugs made in other cities in IRAN.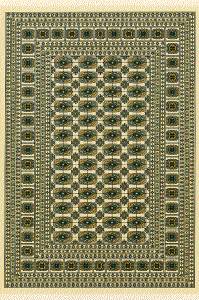 Bokhara: Bokhara rugs was first woven by Persian nomads and was named for the city that served as their central point of trade. Bokhara is one of the numerous designs woven in Pakistan too and is the most popular and widely known design. The field is filled with lozenges, octagons, or similar forms which is repeated throughout the central field and is symbolizes the footprint of an elephant.

Bokharas are less formal than other Persian designs, and can be used in dens, and family rooms as well as living and dining areas. They usually have 200-300 per square inch and comes in 5-8 jewel toned colors with solid color background.

100% wool on a cotton warp and weft. Some rugs will have touches of silk to outline the design. In addition, some specialty pieces will be crafted with a large percentage of silk knots.

A 4'x6' Bokhara can take two and a half months with two experienced artisans working five hours a day.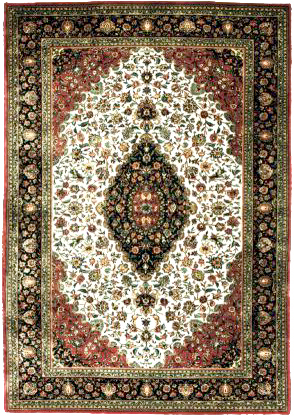 Tabriz: Tabriz is an ancient city in North Western Iran and it is probably responsible for producing the largest percentage of all Persian rugs. The weavers of this city were considered to be among the finest in the world. These rugs have a very short pile, which makes the drawing stand out with great clarity. The favorite motif is medallion.

There can be many different unique designs but most of the time the pattern in a Tabriz rug is filled with dense floral motifs, with large palmettes, vases, foliage, and small flowers and garden elements scattered with wild profusion.There can be rugs of this type with a medallion or without one, and geometric designs are also seen sometimes.
TABRIZ rugs and carpets are highly prized because they are one of the best looking carpets in IRAN and the world.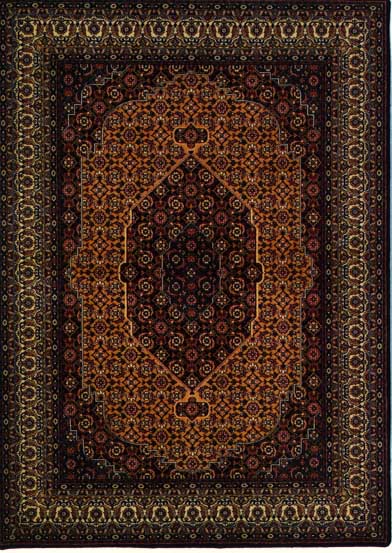 Bijar : Bijar is a city in Iran located in northwest of Iran. Bijar rugs are woven by villagers surroundind the town of Bijar. Carpets from the Bijar region have always been known for their beauty, intricate design, and amazing durability.The design of Bijar rugs are geometric and curvilinear. Medallion designs are common, as are Boteh, Herati, and minakhani designs in endless repeats often with multiple borders or guard stripes.

Bijar rugs are mostly considered village rugs because whether woven in the town of Bijar itself or its surrounding villages, they are woven inside houses rather than workshops. The pattern of Bijar rugs is a combination of curvilinear and geometric with curvilinear being dominant. The favorite colors of Bijar weavers consist of navy, cherry red, brown, light blue, pink, yellow, ocher, orange, beige and ivory. The symmetrical (Turkish) knot is mainly used although the asymmetrical (Persian) knot is seen as well.
Bijar carpets are counted among the best Oriental carpets for everyday use with an extremely tough and rigid handle. Modern Bijar workshop carpets are still of excellent design and construction.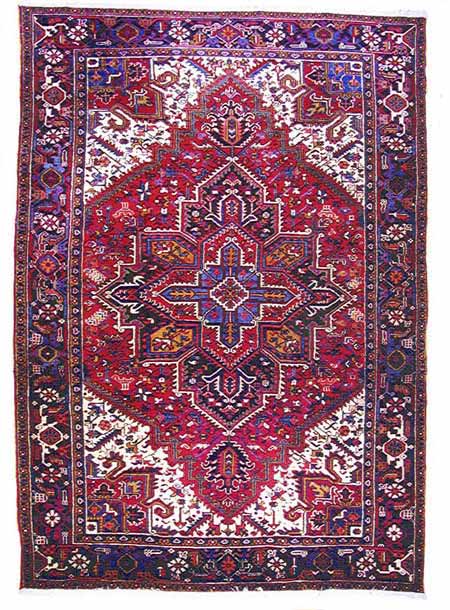 Hariz: Hariz rugs originated in the city of Hariz in northwestern Persia. Pattern in these rugs are of the floral type but translated into near geometric pattern by the exclusive use of straight lines. Hariz rugs have basic colors, usually brick or rust reds and also deep blue. The typical Heriz red and a highly individual medallion are the main characteristics of these popular carpets. Heriz silk carpets are exceptionally finely knotted and are both rare and very beautiful. The designs of old Heriz rugs differ radically from those of new pieces. The quality is mostly good to very good. It is worth learning to distinguish the different qualities. Old and antique Heriz carpets belong to the best carpets on the market.
Colors mostly the typical dark Heriz red, brown and beige. Blue is used as contrast and contour colors. New pieces tend to be rather inharmoniously colored. Old and antique Heriz carpets are sometimes found in large formats and in wonderful blue and turquoise shades.Center medallions are often richly decorated and have a characteristic, rather rectangular shape. Filler motifs include arabesques, palmettos and rosettes in colorful repeat. Also characteristic are the square or rectangular corners in the field, often decorated with arabesques.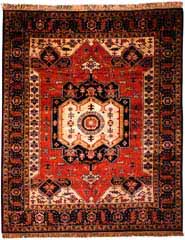 Serapi: Serapi is a trade name given to better quality versions of Hariz rugs. Such rugs are sometimes called Serapi Hariz.

In the United States the highest quality of Heriz Carpets are called Serapi. Quality is higher than the average and knot counts are around 80 knots per square inch with the very best going up to 100 knots per square inch. Serapis have mellow colors and a less busy field than a standard Heriz.

The line between a Serapi and an antique Heriz is more a matter of style than substance. For instance Sotheby's New York does not generally use the term Serapi while their counterparts in Sotheby's London regularly use the term. In Germany both Nagel and Rippon Boswell use the term Serapi.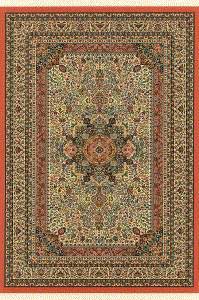 Esfahan: Esfahan is located in western central Iran. Esfahan rugs have been and still remain very famous worldwide. The carpets from Esfahan are very symmetrical and balanced. These carpets usually have a single medallion that surround with vines and palm leaves.The turkish knot is used in these rugs.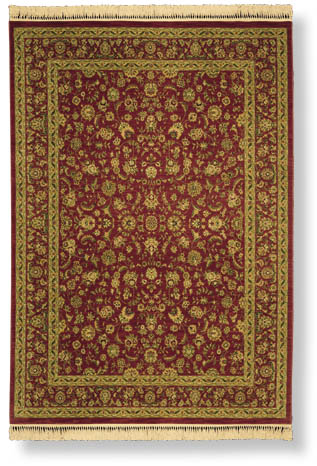 Kashan: Kashan is a city in Iran located in north central Iran. The pile in these rugs is short, the field is either designed around a large medallion or is an all-over design with the border consisting of delicate scrolling stems. It is common for these rugs to have a navy medallion with red background or vise versa.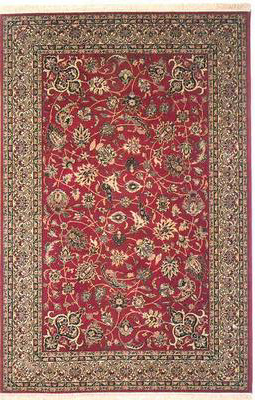 Saruk: These rugs come in either all-over design or with medallion. A classic scrolling design forms the border of these rugs.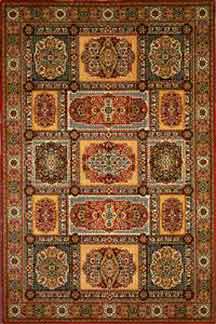 Bakhtiari: These rugs are woven in West Central Iran. The pattern in these rugs are mostly geometric. Panelled design, large medallions, vase, all-over boteh, and tree of life can also be found in Bakhtiari rugs. Small rugs, saddlebags and trappings are woven by nomadic Bachtiaris, while large carpets are woven by the settled tribes people.

There is great variety of color in the carpets produced in the several hundred villages of the area. The principal color include many white and ivory shades, as well as various red and browns, greens and yellows, but relatively little blue. Natural dyes generally produce a harmonious range of color.

The most familiar pattern is the garden design consisting of repeated squares or diamonds, each of which encloses a tree or floral motif. The name translates roughly as "the lucky ones".

The Turkish knot is used in very varying knot densities, ranging from very coarse to medium fine.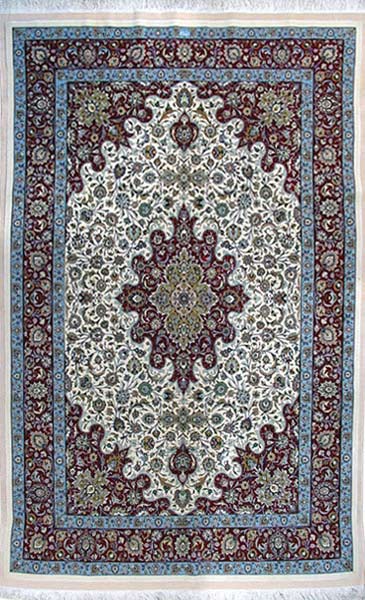 Mashad: Mashad rugs and carpets are mostly curvilinear with the single central medallion and corner floral design, and very busy curvilinear floral motifs in the background. The Mashhad carpets are made of the wool peculiar to the whole province of Khorassan:

very soft and very lustrous, though perhaps rather less hard-wearing than other Persian wools. Formerly the palm-leaf pattern in various sizes was much used, as it was for other kinds of Khorassan carpets;
Mashad is known for producing some of the best wool in IRAN. Mashad rugs and carpets have very high quality. MASHAD carpets are one of the most great looking carpet in IRAN and the world.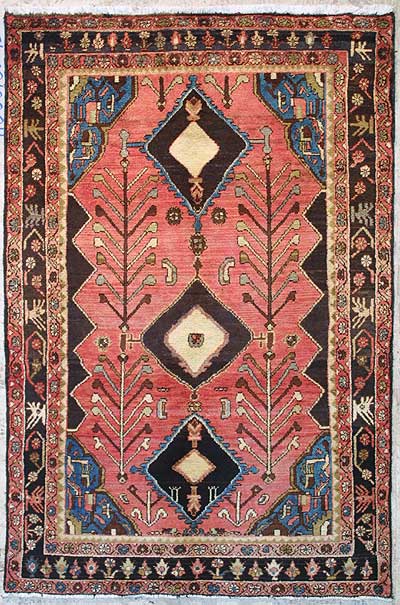 Hamadan : HAMEDAN is one of the oldest cities of IRAN. HAMEDAN produces beautiful tribal hand-woven rugs made in the city and the areas surrounding HAMEDAN in the west of IRAN. Carpets made in HAMEDAN usually have geometric patterns. HAMEDEN village rugs all have a single-wefted medallion.Weavers in HAMEDAN use Turkish knots, and carpets are flat-woven.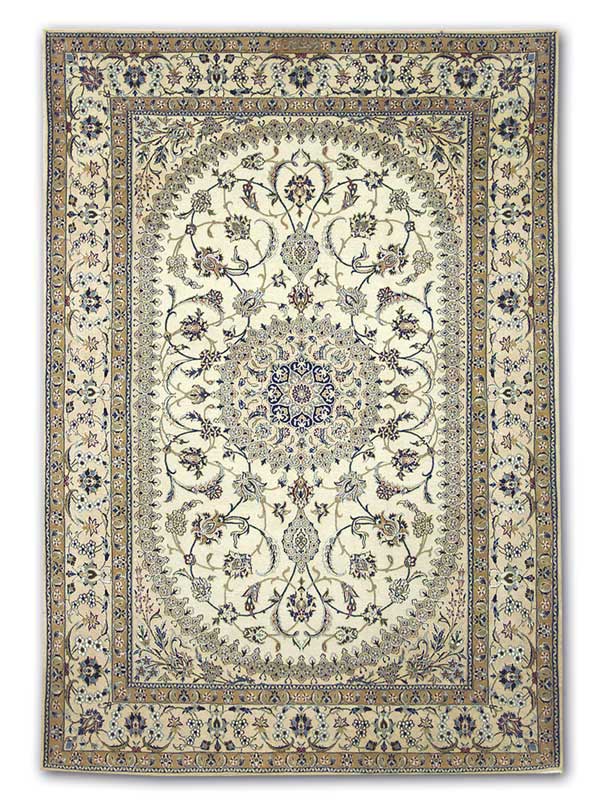 Nain : Nain rugs take their name after the Persian city of Nain. The city of Nain began producing fine carpets sometime around 1940. Nain carpets are characterized by ivory fields, with blues, browns, and tans to create an intricate design. Finer Nain carpets can be woven at 600 or more knots per inch, with silk inlay.

Nain rugs are almost exclusively made with silk and wool piles on cotton bases, however, with the silk in the majority of Nain rugs used to outline the patterns and motifs through the rugs. In addition, the coloring of Nain rugs have blue and ivory schemes.
Farahan: Farahan is a village located in the province of Markazi in central Iran. Older Farahan rugs are very popular in the West. Most Farahan rugs have a geometric pattern although some curvilinear rugs are woven in Farahan as well. These high quality rugs are mainly woven by the asymmetrical knot on cotton foundation.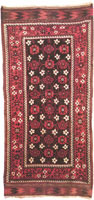 Baluch : Baluch are large group of nomadic tribespeople living in Afghanistan and eastern Iran who weave many types of small rugs, animal trappings and tent furnishings. They favor deep tones of blue, dark brown, dark red and touches of natural ivory. Baluchi rugs are mainly geometric. The Blauchi tree-of-life prayer rug is the most well known of all Baluchi designs. Other designs include repeating all-overs with floral motifs or repeating all-overs with abstract living creatures such as animals (birds are common) and humans. The main colors used in Baluchi rugs are red, dark blue, camel, beige and white. A common border design is a zigzag design. Baluchi rugs are generally made in small sizes.

email: info@uniquerug.com


home | about rugs | hand-knotted | hand-tufted | machine-made | rugs pad | cleaning & care | restoration | designer discount | specials | contact